The Pisan coast, Marina, Tirrenia, Calambrone
The Pisan coast, from Marina di Vecchiano to Livorno, is the mouth of the city of Pisa to the sea.
It 'a place full of tourist facilities and bathing stabillimenti adapted for people, especially in the summer, the many people who choose this area as a holiday destination and resort.

Green pine forest meditterranea Tirrenia you can spend time for relaxing walks, bicycle or horse.
Relaxing time can be had by visiting the oasis of the dunes of Tirrenia, a protected area managed by WWF of Pisa.

We also point to the official website of the National Park of 'Tuscan Archipelago to discover the wonders of nature in Tuscany ( www.islepark.it ), the National Society Rescue - Section of Pisa ( SNS ) and the site of the Harbour - Coast Guard ( www.capitaneriediporto.it ).
Bathing establishment in Marina di Pisa: Bath North Star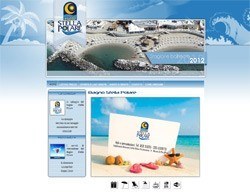 Bath North Star, touristic complex, is located in Tuscany in the coastal Tyrrhenian Sea in the province of Pisa between Marina di Pisa and Tirrenia Resort on the way. The complex is equipped with umbrellas, deck cabins.
The bathing establishment in Marina di Pisa is located on the road and Resort has everything you need to spend a seaside holiday of relaxation and fun.
Services offered:
Private beach, beach umbrellas, beach chairs, cabins, showers, lifeguard service, entertainment, restaurant, lounge bar, happy hour, Wi-Fi
Visit the Bathroom Polaris


How to reach the coast
By car: along the Viale d'Annunzio leads easily to Marina di Pisa; following the directions you can go to Tirrenia passing waterfront.


By bus: available times and rates online at the CPT .

Cycling: in the summer, on Saturdays and Sundays, for those who leave their car in the parking lot of the Cosmopolitan of Tirrenia is on the bicycle rental service at a cost of 1 euro per day for the beaches by bike lanes.
Camping and villages of the coast
CAMPING INTERNATIONAL
Via Resort, 7 - Marina di Pisa (PI)
Tel. 050.35 211 / 050.36 553

Services offered:
It is totally immersed in a green area and has an area of ??about 50,000 square meters.
Private beach adjacent to the campground and offers the possibility to choose the stay in Bungalows.
CAMPING ST. MICHAEL
Via Bigattiera, 24-56018 Tirrenia, Pisa (PI)
Tel. 103 050.33

Services offered:
private beach (about 600 meters); snack bar; mini market; pizzeria; basketball court and volleyball; soccer field; mini golf; giant drafts and for children a fun playground.
In the surroundings: tennis courts, swimming pools, riding school,
golf courses, nightclubs and also fishing with excursions by boat.
CAMPING PINETA
Via delle Mimose, 12 - Tirrenia (PI), loc. Calambrone
Tel. 038 050.32

Services offered:
It has an area of ??over 50,000 square meters within an ancient pine forest during the summer by the opportunity to spend relaxing days to cool its pines.
It offers a beach entirely natural dunes lies between typical of the area and an overwhelming evening entertainment.
CAMPING SEA AND SUN
Viale Del Tirreno - Tirrenia (PI), loc. Calambrone
Tel. 757 050.32
RESORT Boboba
Via Resort, 7 - Marina di Pisa (PI)
Tel. 39 050.3114

Services offered:
The structure consists of 60 apartments arranged in rows; outdoor pool; free private outdoor unattended; bar; restaurant-pizzeria (external management); children's playground; barbecue; washing machines; summer activities; agreement with beach facilities; transfer service to and from the airport / station Pisa (on request).
THE SPELL OF RESIDENCE Boccadarno
Via F. Barbolani, 1 - Marina Di Pisa (PI)
Tel. 10 84 050.31

Services offered:
located 50 m. from the sea and adjacent to the town, has 19 rooms from 1 to 4 people all with kitchenette; private parking; garage; agreements with restaurants.
ORCHID HOTEL RESIDENCE MARINA
Viale del Tirreno, 283 - Tirrenia (PI)
Tel. 050.37 087 / 050.30 537

Services offered:
It is composed of studio apartments and apartments for 2-4 or 6 persons, fully equipped with every comfort.
It offers a private beach with umbrella and chairs; private parking; a games room and internet corner.
BEVERLY PARK RESIDENCE
Via degli Oleandri, 59 - Tirrenia (PI)
Tel. 86 408 050.09

Services offered:
has mini apartments, all equipped with every comfort, furnished in a cozy and comfortable apartment under EEC are also suitable for people with disabilities.
The property also has a large garden, a children's playground and Miniclub service directly on the beach.
Nearby there are playgrounds, bike path (with the possibility to rent cycles), horse riding, golf (9 or 18 holes), tennis courts and CONI center.
RESORT CLUB QUEEN OF THE SEA
Viale del Tirreno, 82 - Tirrenia (PI), loc. Calambrone
Tel. 587 050.30

Services offered:
meetings leisure and sport; theater workshop; beach games and playground set on the beach with inflatable; group courses of sailing, windsurfing, canoeing, archery and swimming; fitness area with courses stretching, water aerobics, spinning, fit-boxing, step, body sculpt and gags; soccer tournaments, eight football, beach volleyball and bowls; trail in the woods.
In addition, near the Resort there are golf courses, riding stables and CONI Olympic training center.
Bathing establishments in Marina di Pisa (PI)
ALBERTO
Via Padre Agostino, 20 - Marina di Pisa (PI)
Tel. 615 050.36

RAINBOW
Via Litoranea, 26 - Marina di Pisa (PI)
Tel. 806 050.36

HARLEQUIN
Via Litoranea, 29 - Marina di Pisa (PI)
Tel. 582 050.36

AURORA
Via Litoranea, 42 - Marina di Pisa (PI)
Tel. 426 050.35


BLUE
Via Litoranea, 48 - Marina di Pisa (PI)
Tel. 131 050.36

WHALE
Via Litoranea, 28 - Marina di Pisa (PI)
Tel. 086 050.35

COTE D'AZUR
Via Litoranea, 36 - Marina di Pisa (PI)
Tel. 619 050.36

FOREST
Via Resort, 2 - Marina di Pisa (PI)
Tel. 082 050.35


FORTUNA
Via Litoranea, 34 - Marina di Pisa (PI)
Tel. 685 050.36

JEWEL
Via Litoranea, 52 - Marina di Pisa (PI)
Tel. 648 050.35

GORGONA
Via Tullio Crosio, 14 - Marina di Pisa (PI)
Tel. 351 050.35

GRECALE
Via Padre Agostino, 24 - Marina di Pisa (PI)
Tel. 904 050.35

SEAGULL
Via Litoranea, 56 - Marina di Pisa (PI)
Tel. 893 050.35

EMPIRE
Via Litoranea, 22 - Marina di Pisa (PI)
Tel. 861 050.36

LA RIVA
Via Padre Agostino, 11/13 - Marina di Pisa (PI)
Tel. 983 050.35

HE KNOWS
Via Litoranea, 22 - Marina di Pisa (PI)
Tel. 852 050.36

MARCO POLO
Via Litoranea, 30 - Marina di Pisa (PI)
Tel. 629 050.36


MARTA
Via Litoranea, 28 - Marina di Pisa (PI)
Tel. 592 050.36

MIRASOLE
Via Litoranea, 38 - Marina di Pisa (PI)
Tel. 750 050.35

SPRING
Via Litoranea, 40 - Marina di Pisa (PI)
Tel. 302 050.35

SARDINIA
Via Litoranea, 26 - Marina di Pisa (PI)
Tel. 11 93 050.31

NORTH STAR
Via Litoranea, 14 - Marina di Pisa (PI)
Tel. 035 050.35


TOTO
Via Padre Agostino, 32 - Marina di Pisa (PI)
Tel. 045 050.34

TRITONE
Via Litoranea, 48 - Marina di Pisa (PI)
Tel. 064 050.36

VICTORY
Via Litoranea, 32 - Marina di Pisa (PI)
Tel. 506 050.35

ZARA
Via Litoranea, 24 - Marina di Pisa (PI)
Tel. 567 050.37
Bathing establishments Tirrenia (PI)
ALMA
Viale del Tirreno, 32 - Tirrenia (PI)
Tel. 597 050.37

CALIPSO
Viale del Tirreno, 10 - Tirrenia (PI)
Tel. 118 050.37


CORAL
Viale del Tirreno, 16 - Tirrenia (PI)
Tel. 105 050.32

DOLPHIN
Viale del Tirreno, 50 - Tirrenia (PI)
Tel. 491 050.37

EUROPE
Viale del Tirreno, 38 - Tirrenia (PI)
Tel. 074 050.37

FIORELLA
Viale del Tirreno, 52 - Tirrenia (PI)
Tel. 378 050.37

FLORIDA
Viale del Tirreno, 44 ??- Tirrenia (PI)
Tel. 085 050.37

HOASY
Viale del Tirreno, 10 - Tirrenia (PI)
Tel. 112 050.30


IMPERIAL
Viale del Tirreno, 44 ??- Tirrenia (PI)
Tel. 036 050.37

PEACE
Viale del Tirreno, 4 - Tirrenia (PI)
Tel. 385 050.37

PEARL
Viale del Tirreno, 10 - Tirrenia (PI)
Tel. 571 050.37

LAURA
Viale del Tirreno, 46 ??- Tirrenia (PI)
Tel. 414 050.30

LIDO
Viale del Tirreno, 98 - Tirrenia (PI)
Tel. 196 050.30

LOMI
Viale del Tirreno, 36 - Tirrenia (PI)
Tel. 170 050.37

LUANA
Viale del Tirreno, 58 - Tirrenia (PI)
Tel. 567 050.37


MAGDALENE
Viale del Tirreno, 48 - Tirrenia (PI)
Tel. 225 050.37

MAESTRALE
Viale del Tirreno, 10 - Tirrenia (PI)
Tel. 216 050.33

MARY
Viale del Tirreno, 22 - Tirrenia (PI)
Tel. 130 050.37

MELORIA
Viale del Tirreno, 60 - Tirrenia (PI)
Tel. 201 050.37

MIRAMARE
Viale del Tirreno, 14 - Tirrenia (PI)
Tel. 221 050.37

MISTRAL
Viale del Tirreno, 181 - Tirrenia (PI)
Tel. 659 050.32

NEPTUNE
Viale del Tirreno, 42 - Tirrenia (PI)
Tel. 051 050.37


PARADISE
Viale del Tirreno, 6 - Tirrenia (PI)
Tel. 448 050.37

ROME
Viale del Tirreno, 28 - Tirrenia (PI)
Tel. 134 050.37

ROSA
Viale del Tirreno, 54 - Tirrenia (PI)
Tel. 016 050.37

ROSALBA
Viale del Tirreno, 56 - Tirrenia (PI)
Tel. 096 050.37

SYRIA
Viale del Tirreno, 34 - Tirrenia (PI)
Tel. 726 050.37

TIRRENIA
Viale del Tirreno, 18 - Tirrenia (PI)
Tel. 061 050.37

VENUS
Viale del Tirreno, 20 - Tirrenia (PI)
Tel. 311 050.37

VICTORY
Viale del Tirreno, 30 - Tirrenia (PI)
Tel. 452 050.37
Bathing establishments Calambrone (PI)
LA PLAYA HAPPY
Viale del Tirreno, 100 - Calambrone (PI)
Tel. 335 050.32

THE SWALLOW
Viale del Tirreno, 102 - Calambrone (PI)
Tel. 204 050.33

LIDO
Viale del Tirreno 98 - Calambrone (PI)
Tel. 196 050.30

NIRVANA
Viale del Tirreno 92 - Calambrone (PI)
Tel. 042 050.37