Holidays in Pisa, Your Guide to Pisa and its Province
Help Pisa is the gateway city of Pisa for those who live, for those who invest and for tourists who want to visit on holiday.
For reservations in hotels, Bed and Breakfast, lodging and vacation lastminute recommend:
History, Culture and Economics of Pisa
The Lungarni Pisani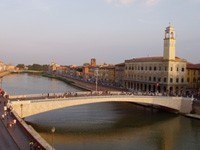 Open roads that meet most of the oldest buildings and mansions of the city of Pisa and the Arno river, which consists, in the highest part of the banks' Arno, walls of brick and stone, known as the "shoulders", part Pisa and nightlife venue for many young people.
The high surface area occupied by the Arno as the historical center of Pisa so aristocratic and distinguished especially when the sunset, the lights arranged along the parapet, are reflected with pride, beauty in the river, creating a magical atmosphere of romance and tranquility desired. The magic of these pathways coils has captivated many Italian and European writers, from the nineteenth century, who praised the beautiful scenery in their writings that give Lungarni grateful to those who arouses their interest.
Hospitality and Relaxation
Shopping and Dining
Labor and services online
The 'University of Pisa
We provide information on the Faculty of the University of Pisa, Departments, guidance and mentoring, educational provision, services and opportunities, Regional Association for the Right to Education.
News, TV, Radio, Newspapers