Companies reported to Pisa
In addition to being a city of art and university, Pisa is also a city full of companies, businesses and activities of various kinds. Companies in increasing development. We will present some.
Print online
The graphics is of paramount importance in any kind of form of communication: the press, internet, multimedia. Graphics Caroti provides a great service online printing for business cards, flyers, brochures, notepads etc.
Furniture Pisa
Montana Evolutions furniture, flooring, paneling, parquet, wood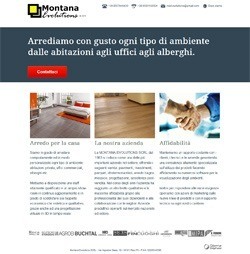 The MONTANA EVOLUTIONS SCRL since 1983 ranks as one of the most important companies in the industry, offering the following services: floors, walls, floors, plumbing, bathroom furniture, mosaic, design, after-sales service.
Over the years the company has achieved a high level of quality and reliability thanks to the professionalism of its employees and the collaboration with the best manufacturing companies operating in the domestic and foreign market.
Visit the site of Montana Evolutions: furniture for homes, offices, hotels
Montana Evolutions SCRL
Via Agostino Bassi, 10
56121 Pisa (PI)
www.montanaevolutions.it
Private detective in Pisa - Taskinvest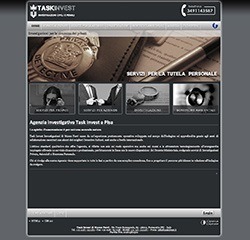 Investigations Task Invest Marco Ferri private investigator comes from purely operational experience developed in-depth investigation, and thanks to years of collaboration with some of the best exercised Detective Italian, also known internationally.
The high quality standard that provides the agency, is reflected not only on the operational role but also the means and technologically advanced equipment used in providing a dynamic and professional service, perfectly in line with the new provisions of the Ministerial Decree, performing services Investigations of Private, Business and Personal Safety.
Task Invest Marco Ferri
Via Tosco Romagnola, 65-56012, Fornacette (PI) - Italy
Tel. 39 0587 933183 - Fax 39 0587 657238 - Mobile 39 349 1143587
www.taskinvest.it
Removal companies, transport and fachinaggio in Pisa
Pisa removals - removals, transport and services fachinaggio to Pisa in Tuscany and throughout Italy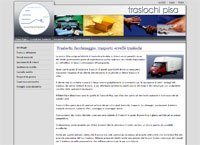 The Company Moving Pisa has a number of professional services within the removals and porterage in general. With the experience gained over the years it is able to offer customers all the services and organizational measures to ensure a professional removals, fast and quality.
The Customer may request all the material for packaging, furniture disassembly and reassembly services, rental stairs lifts, housing furniture and furniture disposal.
Moving Pisa ensures removal of large quantities of goods without ignoring the needs of the customer, both for removals of homes, stores and offices.
After a first telephone contact, the customer will receive in a short time and a free estimate with all the details and services required. It will be possible to proceed on a schedule of times and ways for the soundness of operations required.
The company operates Pisa Removals throughout the country and internationally.
Packaging, production bags, cases
Line rental - fabric bags, bags for jewelry, for jewelry
In the field of Packaging , Line Rental is one of the most important companies in Italy.
Charming line produces bags for jewelery, jewelery, gifts, pens, shoes and cosmetics but also bags for promotional items, watches and kit hotel.
Our company also produces packaging textile wraps for leather goods, for accessories and silverware.
The materials used for packaging are velvet, satin, organza, linen.
The company, born from a long experience in the field of packaging for over 35 years. Inside working professionals specialized in the printing, graphics and all that is the process necessary for the production and packaging of items unique and refined for precious objects that will contain.
Active throughout the country, it has an extensive network of representatives and often participates in trade fairs in Italy but also abroad.
Pools, saunas, steam baths
Aquapura
Water treatment, selling accessories, construction piscine
Aquapura provides services for water treatment , purification, desalination etc. .. Install and then sells residential and industrial softeners, sand filters and cartridge, dosing pump, reverse osmosis desalination and water dispensers.

Also it designs and manufactures any model of any size pool. The wide range of accessories which can be fitted and the excellent maintenance service and home care ensure calm customers.
Aksun
Design and construction swimming pools, saunas, steam baths
AK.sun, present for many years in the construction of swimming pools and sports facilities, created within the structure of a specific area: health, relaxation and wellness.
We design and build swimming pools , spas, whirlpools, saunas, Turkish baths.
We also have a large selection of new and used boats.
Computer and electronics
Effegi
Sale hardware, software, games and entertainment
If what you need is a PC, notebook, server, program office or home, playstation 2 console, X-Box, Nintendo, games console or PC, come visit us in our shop in Pisa.
You'll find a wide assortment of products, in addition to the experience and the friendliness of our staff.
EFFEGI Ltd.
Via Cocchi, 2
56014 - Pisa -
Tel. 39 050 988205
Fax 39 050 988207
OPENING TIME
Ospedaletto (Warehouse - Support)
Mon-Fri 8:30 to 13:30 14:30 to 17:30
E-mail info@iocomprodalgalli.com
Opera Digital - Web Agency, website creation, portals
Digital work deals with the creation of Web sites , vertical portals, multimedia products.
Constantly seeking new solutions up to date, provides solutions for individuals, businesses, hotels, real estate, and anyone who wants to be on the network.
It also provides systems for the management of hotels, Content Management solution for e-commerce, on-line catalog.
All it customized according to the needs of each individual client, with custom graphics and treated. The company specializes in web marketing and guarantees to its customers a great migiori ranking in search engines for a real increase in business.
Opera Digital
Via Bargagna, 60-56124 Pisa
Tel. / Fax 39 050 580201
Internet www.operadigitale.it
E-mail info@operadigitale.it
Pistoiese Bodywork - repair vehicles
Pistoiese The Body is a leader in the repair of motor vehicles. L 'company has environments dedicated to a specific stage of processing. The best equipment: test benches of the body, paint ovens latest generation groups for infrared drying, the computer to detect and the realignment of the structural parts.
Trust us: we will treat your car as if it were ours!
Body Pistoiese
Via Volpe, 7
56124 Ospedaletto
Pisa (PI) - Italy
Tel. 050-982542
Fax. 050-3161120