Construction companies
Some of Building company based in Pisa
Genovesi Construction SpA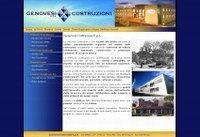 The Genovesi Construction is a limited liability company that operates mainly in the regional in construction, designing and implementing interventions residential housing, industrial, commercial and complex programs of urban regeneration.
The Genovesi Construction has characterized its operating activities, since its origins, with seriousness and reliability, in compliance principles of human, ethical and important industrial, embedded and shared by all its employees.
The work of all those who have alternate over the years has witnessed a continued commitment to seek improvements to the process, innovation, professional development, business, cultural and human.
From the planning stage has always been caution against of all aspects affecting the quality of the action, in accordance with the rules, the environment, safety of its employees, the needs and demands of their customers.
This is the policy of Genovesi Construction, these are your principles, this is his culture.
In respect of all this, avoiding shortcuts, the Company has grown over time and in compliance with all of this, look forward with development projects broad.

Visit www.genovesicostruzioni.it