Andrea Bocelli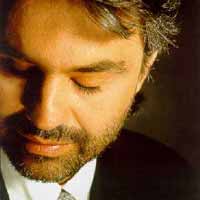 Andrea Bocelli was born in Lajatico, a small town near Pisa. Since her childhood shows an interest in singing, creating myths to follow immediately, singers like Beniamino Gigli, Mario Del Monaco and Franco Corelli.
He graduated in law at the ' University of Pisa , but his passion for singing is too strong, continues his studies to become a student of the great Franco Corelli. Thus began a long climb in the music world, Sugar chose him to record the demo of "Miserere", and its name began to arouse public interest, even abroad.
It is known throughout the world with his first single, "go with you", the English version sung by Sarah Brightman became an incredible success, being the first in France and Germany, where it sold more than 3 million copies.
In 1996-97 he debuted with his first album "Romanza", and is now a worldwide success, sell 16 million copies worldwide, winning disc with a long series of platinum, up to the Oscars in 1999 with the song "The Prayer" duet with Celine Dion song that won "anyway" Golden Globe.
Strong achieved fame, Andrea released his second album, "Dream", now at the top of world rankings.
But with the publication of "Sacred Arias" by Andrea Bocelli itself as best lead singer of classical music: his classic solo album sold more in the world, which earned him entry to the Guinness World Record for the occupation of the first, second and third place in contemporary American classical music charts, remaining at the top for about 3 years.
In 2001 he published his autobiography, following another great album success, Skies of Tuscany, and in 2002 with the album "Feelings" was awarded no less than 2 Brit Awards.
From that date until today, is a succession of hits worldwide, with large stakes with Stevie Wonder and Christina Aguilera.
Official website