Hospital Pisa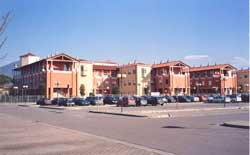 This is not the site of the Hospital of Pisa, for any detailed information on services Cisanello Hospital of Pisa, phone numbers for reservations, booking of hospital visits and so on, we refer to the official website.
Emergency department of Pisa
Phone Number of Emergency Room of Pisa: 050-992300
Endocrinology
For reservations please call 050 995077 between 14:30 and 16:30. If necessary, you can send a fax to 050 995757 to be contacted.
HOSPITALS
Hospital Cisanello
SWITCHBOARD TELEPHONE: Tel 050-992111 / 050-993111 / 050-995111 / 050996111
The two plants are located, respectively:
Plant Hospital of Santa Chiara (center city) Via Roma, 67 - Pisa.
E 'located close to Piazza dei Miracoli, the road adjacent to the main entrances, Via Bonanno Pisano.
Plant Hospital Cisanello (the eastern outskirts of Pisa) Via Paradisa, 2 - Cisanello - Pisa.
The road that leads to 'the hospital's main entrance is via S.Biagio / Via Paradisa.

CUP - Booking One Centre where you can call or go to request appointments for visits and examinations:

Hospital Cisanello


ANALYSIS
OU-chemical analysis and clinical Microbiology 1

UO Clinical Chemistry specialist 800; '>

Clinical Chemistry and Microbiology Unit 2


DIAGNOSTIC IMAGING
Hospital Cisanello:
SERVICE EXCELLENCE
Hospital Cisanello:
1 Endocrinology Unit University
UO University Cardiovascular Diseases 1
UO General Surgery and Transplantation University 3

Hospital Calambrone:
Orthopedic 4 UO

The content of the page is automatically translated.

Rate: 2.3 | Comments (0) | Write Comment